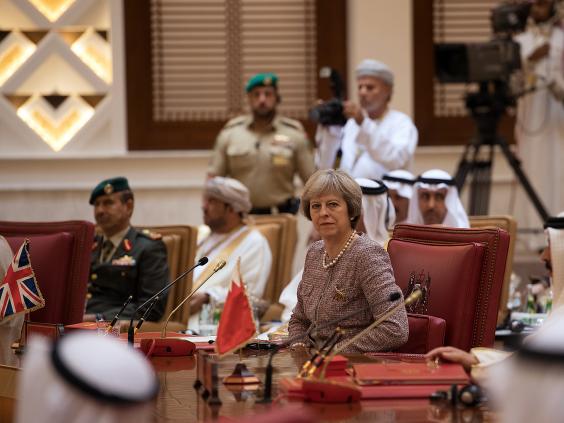 Bahrain's Appeals Court today reinstated the 9-year prison sentence against Sheikh Ali Salman, Secretary General of Al Wefaq, less than a week after the visit of Theresa May, UK Prime Minister, to Bahrain.
The only possible conclusion is that the UK has either failed to promote reform and respect for human rights in Bahrain, or that the UK is complicit in green-lighting this latest repressive move. In either case, the UK is judged to be not doing enough to bring about serious and meaningful change in Bahrain.
Sheikh Ali Salman has been imprisoned since December 2014 and in May of this year there was widespread shock when he was sentenced to 9-years in prison; an extension of 5 years to include charges of seeking to overthrow the regime by force. In October this decision was thrown out, following serious failings with the court system that refused to allow basic video evidence to be shown.
Despite none of these discrepancies being addressed, and the video evidence once again being rejected, Sheikh Ali Salman is once again facing the prospect of almost a decade behind bars.
The overturning of the charges in October were welcomed with tentative caution but there was genuine hope that this could mark a change in direction from Bahrain following a ferocious escalation in repressive measures during the previous 6 months, in what was widely recognised as an attempt to wipe-out the opposition. However it was made clear that this window of opportunity would be wasted unless it was coupled with serious pressure on the authorities in Bahrain to make serious progress on human rights and relax the intense security situation.
Instead, rather than this moment marking a step forward it is now clear that this was nothing more than a cosmetic, surface adjustment to appease Bahrain's international allies and quell pressure of the growing violations. Unfortunately, as has happened on numerous occasions, international governments have failed to understand this dynamic and have instead, wittingly or otherwise, facilitated a further step backwards.
None more so than the UK Government who must now answer for this sentencing. Last week Theresa May visited Bahrain as a guest of honour to the GCC Summit, reaffirming relationships and refusing to mention any need for democratic or even basic human rights reform. Indeed the UK distanced itself from comments of its own Foreign Secretary that were critical of Saudi Arabia.
If the UK stands against democratic reform and human rights in Bahrain it should state so now. Otherwise it should accept that its strategy for making change has thus far failed. We call on Theresa May to clearly and unequivocally reject this move by Bahrain and call for the immediate release of Sheikh Ali Salman – not as simply a hollow call, but with meaning and intention. This translates as sending a clear signal to Bahrain that the UK will not retain the same level of cooperation and relations with Bahrain if it continues down this path.
Just a few months ago the US Administration refused to allow a sale of fighter jets to Bahrain, without serious progress on reforms. There is precedent. It is ludicrous to suggest a repressive state like Bahrain will reform simply because they were asked to. This is a ruling family that fears the very concept of basic reform, it fears losing its monopoly on power and wealth and will fight to protect it. The only way to bring about change is to challenge that power and wealth that is so tied into its relationships with the international community.
This is not simply a question of what is right but most crucially about what creates the most stable and prosperous environment for all those with a stake in Bahrain – it's allies, the region, the people and the rulers. Repressive measures make the situation more precarious, less peaceful and increase tensions. This is not good for trade, for defence and certainly places the security situation in a more dangerous position. At a time when the region is already in chaos, supporting dictators is not the way to see long-term progress.
The decision against Sheikh Ali Salman today is deeply worrying but not surprising from a state that has regularly shown a desire to lock away critical voices, reject peaceful reform and breed chaos. What's far more worrying is that this move came less than a week after the visit of a global leader to Bahrain. The question must now be asked of Britain: Are you with democratic reform in Bahrain, or against? On which side of history will you stand?